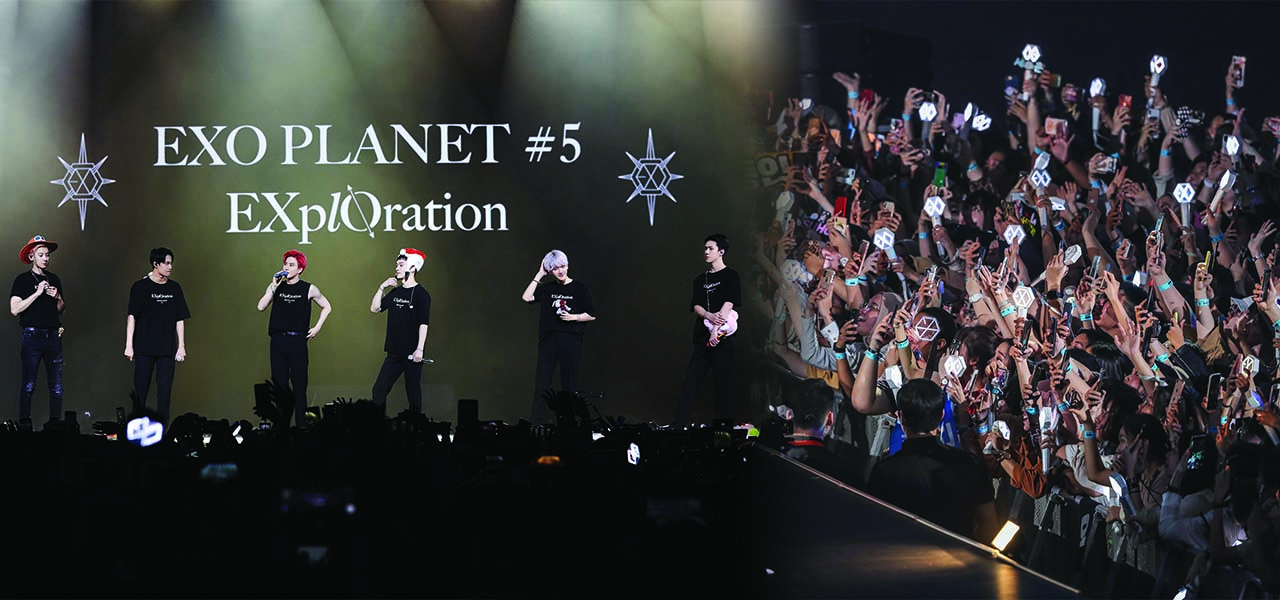 The band's latest concert in Malaysia was held last Saturday at Axiata Arena Bukit Jalil. Despite having only 6 members performing in the tour, with Xiumin & DO currently serving their mandatory military service and Lay focusing on his solo activities in China, the idol group had no problem selling out the concert.
"I'm sorry but we don't have the music for it," EXO leader Suho tried reasoning with their passionate EXO-Ls as the fans chanted for the K-pop boyband to sing their latest song, "Obsession".
Understandably, since the song was just released last month (exactly on member Chanyeol's 27th birthday), it was not included as one of the tracks in their current "EXO Planet #5 – ExplOration" world tour, which started in Seoul last July.
The crowd was just getting over their disappointment when member Kai, during his turn to address the packed stadium, said he wish he could perform it. In fact, the dancer said, he was willing to perform it if his members were, too. While the others mulled over it, Chanyeol showed his willingness by simply striding up to the middle of the stage and started singing the song's addictive intro, "I want ya, I want ya, want ya. I want ya, I want ya, want ya."
Following suit, the rest of them swiftly fell into their own places in the choreography and that was how EXO decided to make their fans' day by singing a shortened "a capella" version of their new upbeat dance song.
The band's latest concert in Malaysia was held last Saturday at Axiata Arena, Bukit Jalil. Despite having only six members present in this tour, with Xiumin and D.O. currently serving their mandatory military service and Lay still focusing on his solo activities in China, the idol group had no problem selling out the concert.
Performing a total of 24 songs (not counting the abovementioned bonus a capella) for a duration of over two hours, they kicked off the concert with "Tempo", followed by "Transformers" and "Gravity", before Baekhyun got the stage all to himself for his solo performance of "UN Village".
The vocalist then regrouped with his members to perform "24/7", "Love Shot" and "Ooh La La".
The band made full use of their expansive stage, performing some songs at the main part of the stage and others at the extended sections, which included a second smaller stage upfront with runways on both sides.
It was at the smaller stage, which was also set up with a set of lights hanging from above that floated up and down and changed colours as needed as well as a projector that displayed images on the floor, that they did most of their talks in between their performances, since that was in the middle of the venue and closer to their screaming crowd of fans.
After talking to the crowd, then performing "Monster" and "Oasis" at the main stage, the rest of the members made themselves scarce while Suho remained behind to perform his solo, "Been Through". Chen sang his solo next, appearing at the smaller stage to sing "Lights Out", all while the hanging bulbs of lights floated like tiny fairies around him and the projector displayed images of jellyfish floating serenely around the singer's feet.
Next, it was time for the sub-unit EXO-SC, consisting of rappers Sehun and Chanyeol, to perform their tracks "What A Life" and "Closer to You".
Joined by their members again, they proceeded to sing "Falling for You" and "Wait", during which fans held up slogans printed with the Korean phrase "You don't have to wait, EXO-Ls will forever be by your side". After a little talk, the band continued with "Power", this time really hyping up the crowd as the members spread out all over the stage – main stage to runways – and got the crowd to jump along with them throughout the song.
Kai then had the stage to himself as he performed the hip hop-infused "Confession", before joining his fellow members for "Bad Dream" and "Damage", during which Sehun had a short dance solo.
After another little talk, the band performed a medley of their older hits, "Growl" and "Overdose", before wrapping up their show with "Call Me Baby".
Of course, fans weren't going to let them go just yet. Following shouts of "Encore! Encore! Encore!", the six of them returned on stage, wearing their final change of clothes for the evening: black T-shirts emblazoned with their tour's name. "Thank you for the encore shouts," Baekhyun said with his trademark cheeky grin plastered on his face.
Encore is usually when fans start throwing novelty gifts like toys and funny headwear for the band to play around with onstage and it was no different this time. Gifts started raining the stage the moment the band reappeared to perform "Unfair" and "On the Snow".
While most of the members were content with just picking up some of the toys and carrying them around, the cheekier ones like Baekhyun and Chanyeol excitedly put on wigs (they particularly loved the unicorn one which they took turn wearing) and paraded around with them.
When it was time for the band to bid their goodbye, Suho, who had been doing most of the talking in English (Baekhyun attempted some English sentences too as he is getting better in the language since being the leader of another SM Entertainment boyband, SuperM), promised that they would come back to Malaysia again for another concert.
The band then sang "Merry Christmas" for a bit before moving on to their real final song for the evening, "Smile on My Face".
Organised by Star Planet and presented by GetBats, "EXO Planet #5 – ExplOration Kuala Lumpur 2019" is EXO's fourth concert in Malaysia. They were previously in the country for "EXO PLANET #4 The EℓyXiOn in Kuala Lumpur", "EXO PLANET #2 – The Exo'luxion " and "EXO PLANET #3 – The EXO'rDIUM".
Source: The Hive Asia
16.11.2019