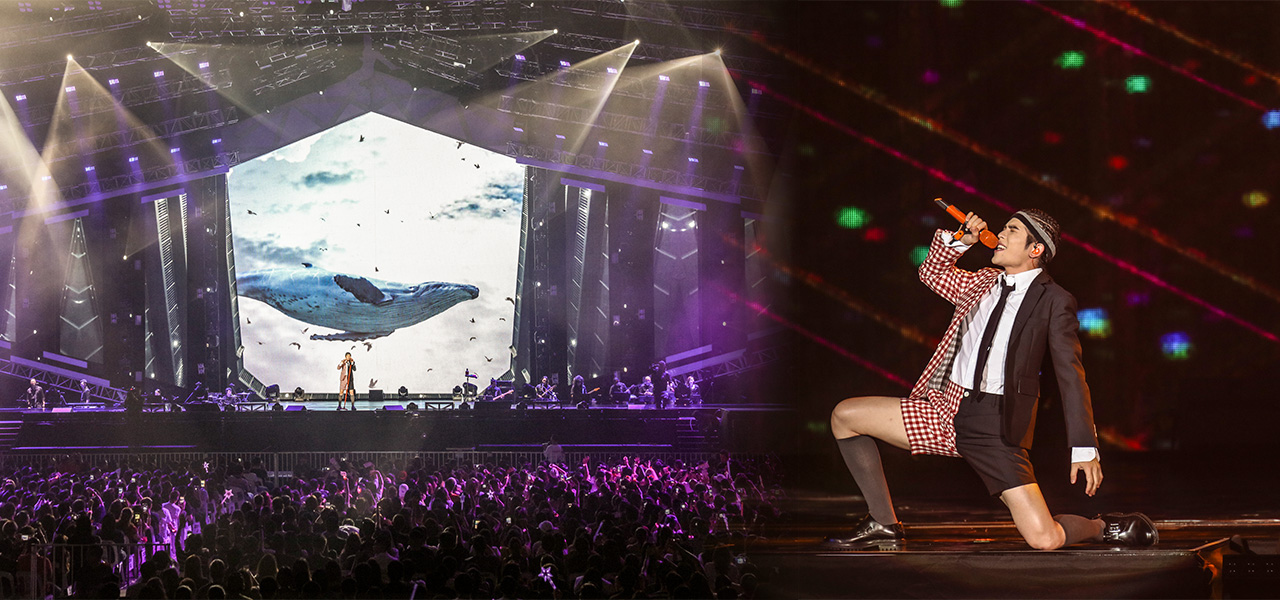 It has been said that whenever and wherever Jam Hsiao (蕭敬騰) appears, rain will follow.
And while rain poured heavily all over Kuala Lumpur, the heat kept on rising inside Axiata Arena – the place where Hsiao (also nicknamed as the Rain God by fans) held his "Mr. Entertainment" world tour last weekend.
The Taiwanese singer opened the show with a series of powerful ballads such as "Golden Love" (纯⾦打造) and "How To Say I Don't Love You" (怎麼說我不愛你). Besides his unique vocals, we were also impressed with the majestic stage set up and the use of classical musicians.
Just when we thought Hsiao was ready to take a little break, he quickly changed his clothes and continued to wow the crowd with another 3 of his mega hits – "Pi Nang" (⽪囊), "The Prince's New Clothes" (王⼦的新⾐), as well as "I Really Want To Say" (好像对你说).
The Taiwanese Golden Melody Award-winning singer also told fans that he specially selected "Melody" as a gift to them. But little does he know that his fans have prepared a little surprise of their own for him.
During his performance of "Endless Love" (新不了情), the crowd lifted up their phones with the torches on, and waved to the song's romantic rhythm. Needless to say, the whole stadium looked like a sky full of stars, and it was a breathtaking sight.
Aside from having a set of killer pipes, Hsiao is also famed for his humourous personality and silly antics. He jokingly told the crowd that Malaysian regulation has gotten stricter.
"I was told that I would get caught if I wore short pants at my concert," he quipped. "Also, I might get locked up for a month if I show off my bare chest!" That only drew more screams from concert-goers.
According to Hsiao, "Mr. Entertainment" is his most special concert yet. He even prepared a video presentation of how he came to become one of the "Kings" of Mandopop. At the end of the video, he offered a word of encouragement to himself and that emotional exchange made fans a little teary-eyed.
Right before the encore, Hsiao sang "The Song" from one of his albums of the same name. At one point, he suddenly stopped and continued the song without using the microphone. We don't know about the others, but we could hear him singing acapella from where we sat. Impressive much.
Hsiao ended the night with a familiar playlist, which includes "Princess" (王妃), "Romance Of Alocasia" (海芋恋),"Loving Dearly" (疼爱),as well as "A-Fei's Little Butterfly" (阿⻜的⼩蝴蝶).
We felt his strong passion throughout his concert. We loved how Hsiao interacted with his fans and the way he performed each song with a theatrical flair that is unique only to him. That's why in our books, he's one of the few performers who genuinely enjoys performing on stage.